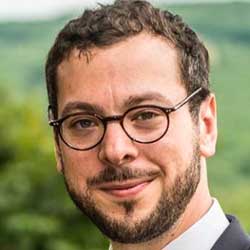 Benjamin Lang
Silver
Summary
Founder and president of Aelan, Sustainable IT consulting firm,
Board member of La Fresque du Numérique – Coach and animator,
Member of Boavizta and Techologie communities,
Trained for Digital LCA and Bilan Carbone,
Label NR certified consultant,
INR certified.
I am a generalist consultant with a broad range of competencies. Therefore, I am able to help organizations formalize comprehensive Sustainable Digital Strategies with KPIs as well as fully operational action plans.
My areas of consulting are: tendering, governance, training and sensibilization, hardware, sustainable design.
Typical realizations : Sustainable Digital Strategy and KPIs, Project management, Training in Sustainable IT, LCAs or Bilan Carbone for digital services.
Teacher in GreenIT in MSc in Engineering
Author of the 1st French Panorama of Sustainable IT Actors
Graduated from NYU (2006)
Explore LinkedIn Profile
Pedagogy
Expertise areas
Sustainable IT Label
Other