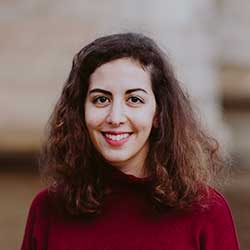 Summary
Ines has helped public and private organizations to inform and engage with their audience for over 10 years using digital media.
She started her career at l'Athénée Louis-Jouvet theater and built her expertise within national and local communication and marketing agencies (HAVAS, Publicis Consultants, Intuiti) which led her to specialize in digital strategy.
Ines is particularly interested in media digital transformation and has contributed to this process while working for French weekly magazine Le Point where she structured the social media strategy and led the audience acquisition strategy.
In february 2020, she created an agency called « Leksi » with her partner Noémie Buffault. Leksi helps organizations to share their social commitments and raise citizens awareness thanks to digital media.
How Ines gets involved in a more socially responsible digital ecosystem:
As a member of the local association « NantesNumériqueresponsable »
As an organizer of several conferences dedicated to GAFAM during the Nantes Digital Week
As a coordinator of a web project led by Rennes cultural center Champs Libres
As a professional contributor for a class dedidaced to « Digital ecology » (Sorbonne University)
As a speaker during conferences dedicated to digital sobriety (ECV Digital, Alliance Green IT)
Explore LinkedIn Profile