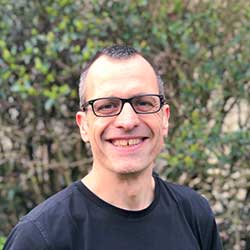 Jérôme Lucas
Silver
Summary
Jérôme has been supporting companies in their digital transformation projects for over 20 years. After raising awareness in 2019, he developped new skills about sustainable IT and co-founded Digital4better in 2020.
He now supports companies in their digital transformation, through a responsible digital approach. As such, he raises awareness people about IT sustainibily (more than 1000 people trained in 2 years).
He also contributes to responsible digital roadmaps of companies, and supports company project teams in assessing their environmental and social footprint using the fruggr tool.
He is also a member of associations committed to responsible digital technology: ADN Ouest and Femmes du Digital de l'Ouest.
Explore LinkedIn Profile
Pedagogy
Expertise areas
Sustainable design
Accessibility
Ethics
Digital Marketing
Usages