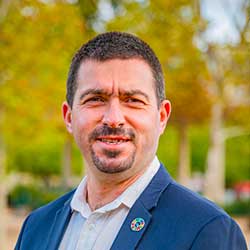 Summary
With more than 20 years of experience in IT and a generalist profile, Kevin has been interested in the environmental impact of IT since 2007 and founded ASVOLA in 2017 to combine digital transition and ecology.
Kevin is Computer Science Graduate and begined his career as IT technician. He very quickly wondered about the scrapping of functional IT equipment and discovered the environmental impact of IT through the European RoHS directive in 2007.
He worked for many IT departments from SMEs to companies likes HP, DELL or AXA, in France and internationally, ranging from technical support to Project Manager, allowing him to acquire a generalist vision of Information Systems. Kevin was involved in Junior Chamber International where he discovered the UN's Sustainable Development Goals. Becoming aware of the challenges of our planet, he tries "to be the change he wants to see in the world", as proposed by Gandhi.
Kevin raises awareness of environmental, social and economic issues related to technologies. Kevin is a speaker and trainer to generate awareness and provide the keys to action. He wants to allow everyone to take ownership of the subject and initiating the reduction of its impact on their own scale. Kevin is himself Sustainable IT certifed.
Kevin advises organizations wishing to implement a Sustainable IT approach. It relies on its own methodology developed to empower teams. Certified Sustainable IT Label consultant, he supports organizations wishing to engage in a labeling process.
Kevin is actively contributing to the Sustainable IT ecosystem. Kevin is the project manager of the Cyber World CleanUp Day which he founded with Institute of Sustainable IT and the World Cleanup Day in France. This global operation makes all citizens aware of the environmental impact of digital technology and initiates a Sustainable IT approach.
Explore LinkedIn Profile
Pedagogy
Company Pedagogy
School Pedagogy
Expertise areas
Sustainable IT Label
Server IT
Cloud Service IT
Hosting
Usages