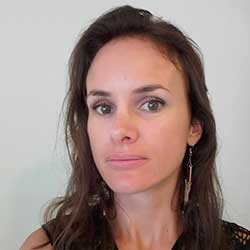 Kristen Girard
Silver
Summary
I started in the web world in 2018, I trained as a webmaster, then web developer. I opened my own agency in 2019 and discovered Green it that same year.
I decided to direct all my work in this direction as the values conveyed are linked to my personal values: I then trained in the eco-design of digital services, then the life cycle analysis of a service. digital (LCA) with subject matter experts.
I am a trainer in various schools and training organizations: Greta, Studi, Digital School of Paris and regularly participate in webinars and conferences on this fascinating subject. Quite a permanent challenge!
I am now a responsible Digital Consultant within Digital 4 Better and plan to train in Bilan Carbone in 2022.
Personally, I like to get involved in various associations, especially to fight against the digital divide as well as other mutual aid associations.
Explore LinkedIn Profile
Pedagogy
Company Pedagogy
School Pedagogy
Expertise areas
Sustainable design
Accessibility
Ethics
Other