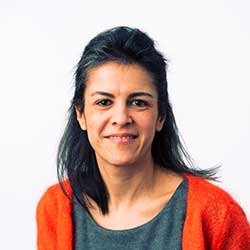 Lorraine Le Baud
Silver
Summary
Lorraine has a master's degree in business administration and 15 years of experience in digital transformation. She worked in consulting companies liked Accenture and Deloitte to design and deploy ERP solutions, business process reengineering solutions and ITIL services.
While service delivery director for an Oil & Gas company, she became conscious about resources' scarcity and initiate initiatives to raise employees awareness to IT sustainability. She quit her job in 2020 and led a master's degree in circular economy. She launched 2 activities. Her consulting services in IT sustainability has a focus on product quality labels, training, and diagnosis services.
She also run a greenhouse brand whom products have a carbon footprint close to 0 thanks to the reuse of glass partitions. She proposes team building activities to build greenhouse and animate discussions around innovation, circular economy and inclusion.
Explore LinkedIn Profile
Pedagogy
Expertise areas
Printing IT
Office IT
Other