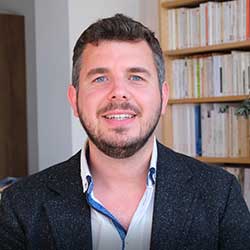 Steve Tumson
Silver
Summary
Steve's initial training as a mechatronics engineer reflects his curiosity and his desire to understand and solve complex systems.
His various activities as a consultant, trainer, coach, speaker and teacher demonstrate a real passion for sharing knowledge and supporting change management.
Committed and at the forefront of societal issues, Steve is also co-founder of the AlterNumeris group (reflection/action on the challenges of the digital society), co-president of EFDD NPO (educating and training for sustainable development) and co-president of AILouvain (network of 10,000 alumni graduates of the Louvain School of Engineering).
Explore LinkedIn Profile
Pedagogy
Company Pedagogy
School Pedagogy
Expertise areas
Server IT
Printing IT
Office IT
Datacenter IT
Cloud Service IT
IoT / Home automation
Hosting
Sustainable design
Accessibility
Usages