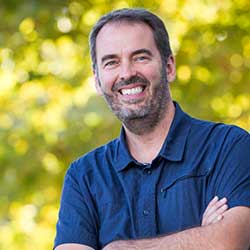 Vincent Courboulay
Gold
Summary
Vincent Courboulay is an engineer and asscociate professor of computer science at La Rochelle University since 15 years. For the past 10 years he has specialized in sustainable IT, first by creating training courses and then by focusing his research on this theme.
In 2018 he participated in the creation of the Institute for a sustainable IT of which he became scientific director. He is at the origin of the charter, the label and an online teaching accessible to all which will take an international influence from 2020.
He is currently working on the notion of sustainable artificial intelligence and is the author of the book "Vers un Numérique Responsable" published in 2021 by Actes Sud. That same year, he joined the ecological transformation committee of the Paris 2024 Olympic Games.
Explore LinkedIn Profile
Pedagogy
Company Pedagogy
School Pedagogy
Expertise areas
Server IT
Printing IT
Office IT
Datacenter IT
Cloud Service IT
Security IT
Network IT
Hosting
AI
Sustainable design
Accessibility
Data protection
Ethics
Usages
Other